Synths for family room, studio or stage
The Blipblox is a fully functional synthesizer designed to introduce music making to anyone, even kids as young as 3.  Blipblox synthesizers are all about making music fun and playful. 
Music on the go.  
Hundreds of built-in melodies.

Built-in speaker.

Play for hours using included AA batteries.
Powerful learning and STEAM toy.  
Graphical arrows teach the basics of synthesis by showing the connection between the knobs, buttons and levers that create the sound.  

While they are playing, kids are also learning the basics of sound synthesis and music production, creating a uniquely entertaining educational experience.
Neurodiverse-friendly toy. 
An endless number of sounds to explore.  Without complicated steps to follow or rules to learn.

Encourages creative play without the need of internet connection or screen time.

Special settings dim bright lights, calm flashing lights or set max volume for sensitive users.
At home on the coffee table or in the studio.
¼" Audio out port (SK2 and After Dark feature stereo)

Connect to home stereo and speakers.
Record to a computer.

5-pin MIDI in port

Create your own melodies using a MIDI keyboard.

Connect to external drum machine, DAW or other MIDI instruments.

Universal USB power cable
WHICH BLIPBLOX IS RIGHT FOR YOU?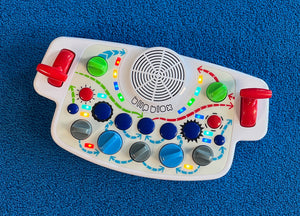 Music Exploration
Blipblox Synth for Kids, designed for the youngest musicians, features a simplified layout with a focus on creative play. Delights producers looking for a unique 8-bit chiptune sound.
BUY NOW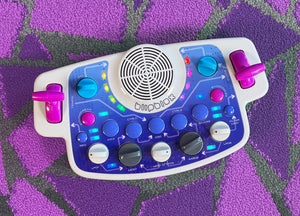 Music Discovery
Blipblox SK2, designed especially for kids 8+, features advanced synthesizer controls and a rich sonic palette for endless music making opportunities. A fun little device for any coffee table.
BUY NOW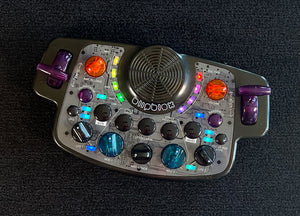 Advanced Performance
Blipblox After Dark, designed for teens and adults, features a layout and sounds inspired by professional synths. A portable ready to play wherever inspiration strikes.
BUY NOW