Meet the Blipblox
One-of-a-kind music exploration devices that are easy-to-use and safe for children as young as 3 years old.  These fully functional synthesizers engage kids and adults with their colorful controls.  Advanced synthesis has never been so much fun.
My daughter has autism and she has always been enamored with my synthesizer collection. We bought her a Blipblox and a year plus later she still plays with it each day!  Thanks for the great device that helps me connect with my lil girl ☺️
Hanz
Wow! What a great instrument. My son has started to figure out that if he tweaks the knobs certain ways he can get sounds that he finds genuinely moving. It's very rewarding for both of us!
I also hook the Blipblox to a Korg step sequencer and run it through some guitar pedals and into my DAW along with a small collection of other hardware synths. It fits in great with the rest of the gang. 
Jim M.
The Blipblox is that rarest of children's products, one whose massive fun factor is accompanied by off-the-charts educational value.
Tillywig Brain Child Award Panel
My daughter loves it.  She tends to turn it on and press everything and dances and her little brother now wants to play with it!  The other day I caught my daughter teaching him how to use it. ❤️
Beatriz
I can't wait to give this thing to my nephew, if I am able to part with it! It's really fun and I was surprised how good it sounded once I plugged it into my studio monitors. My daughter is begging for one and I may have to get an After Dark for her down the road. I wish I had a toy like this when I was a kid.
G.H.
It's amazing. Thank you!! My kid is making bangers.
Brandon
I got it for my kids for Christmas 2019. They still play with it to this day, and sometimes, when the leave it in some random spot in the house, I end up playing with it. Last night I got sucked into it for a good 25 minutes...I might actually have to bring it in the studio proper at some point...very cool toy (that is also a real synth) that you can get for any synth-curious kids in your life!"
@ether_diver
I have three kids in the single digits dragging the Blipblox around, it's rock solid. I have never once heard the same jam twice, just plays a never ending series of midi patterns. Brilliantly, there is no way to stop the jam. They leave it on all the time and I have maybe changed the batteries once. Great stuff. If you're on the fence definitely make the move...you will be happy you did.
@love_burg
Start your musical journey the moment you turn it on!
The Blipblox is a real musical instrument that has been simplified so there are no rules to follow or steps to learn.  With the push of a button the Blipblox starts playing one of its hundreds of built-in melodies.  Twist and turn the colorful controls to create fresh music from an unlimited palette of synthesized sounds.  See the sound as the LED light show dances in beat with the music.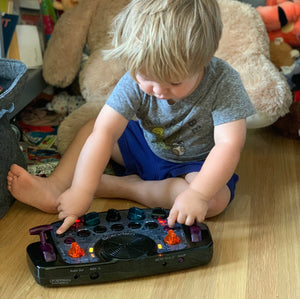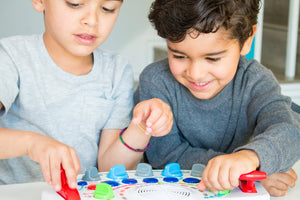 THE GIFT OF MUSIC FOR THE WHOLE FAMILY!
The Blipblox makes it easy for your family to jam, perform, and connect through music.  Younger kids find the brightly colored controls and synchronized light show irresistible.  Teens and adults are captivated by the unlimited ability to create new sounds.  MIDI and Audio ports let you connect to your stereo system and other musical instruments so parents and friends can join in.  The durable design can take hard hits, drops and spills, and it's certified safe to international standards for kids as young as 3.
Ready for Studio or Stage
The Blipblox isn't just for kids.  It's a sophisticated device with advanced synthesis features.  The same elements that make it fun for music exploration, also make it a fun studio tool.  An innovative signal flow makes it easy to dial in complex soundscapes.  Choose your oscillator mode then modulate it using the two LFOs and the Envelope Generator.  Sculpt your waveform with the filter, then add some beats with its drum machine.  A built-in speaker and battery power means it's completely portable.  Integrate into your studio or use live with 5-pin MIDI input, ¼" audio output, and the included USB power cable.